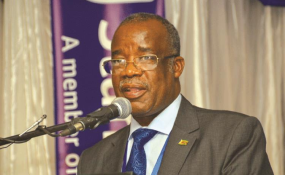 Photo: The Herald
Higher education permanent secretary Prof Francis Gudyanga, 69, spent the weekend in jail after his bail hearing was postponed to this Monday by a Harare magistrate.
Gudyanga is charged with criminal abuse of duty as a public officer after he unlawfully appointed himself lone member of a parastatal board and reportedly awarded claimed allowances meant for eight people.
The allegations relate to his time permanent secretary in the ministry of mines. According to prosecutors, Gundyanga prejudiced the State of $30,000 and faces up to 15 years imprisonment if convicted.
Court heard that the senior civil servant Gundyanga started perpetrating the fraud in 2013 when the Minerals Marketing Cooperation of Zimbabwe (MMCZ), a parastatal, dissolved its board.
Gundyanga was subsequently appointed the board chairperson from December 2013 to September 2016 and, during that period, corruptly claimed board fees and sitting allowances amounting $28,910.
According to the MMCZ Act, the company's board must comprise between six and ten members.
Meanwhile, during a court hearing last Friday, prosecutor Michel Reza opposed bail arguing that Gudyanga was a flight risk.
However, defence attorney Norman Mugiya argued that the State had no grounds for opposing bail, arguing that his client was authorised to preside over the board alone by then mines minister Walter Chidhakwa.
Magistrate Victoria Mashamba is expected to rule on the bail application this Monday.