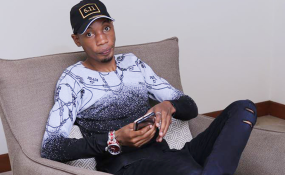 Photo: The Monitor
By Joseph Kato
Detained socialite Brian Kirumira aka Bryan White has been transferred from Kabalagala police division in Kampala to Nalufenya, a high profile police detention facility in Jinja District.
A source said Bryan White's transfer was ordered by Inspector General of Police Gen Kale Kayihura after he received reports that the gun he used to shoot his neighbour Victor Bitwire was not registered by any security agencies in Uganda.
Kampala Metropolitan police commander, Frank Mwesigwa, said the gun used in the crime is not marked and it is suspected to have been smuggled into the country.
"We checked the gun and it had no marks. It does not belong to any security group. We have now arrested a person whom we suspect to have helped him to get the gun so that we can know the source," Mr Mwesigwa said.
Following the shooting, the Inspector General of Police, Gen Kale Kayihura ordered for an audit of all police guns.
In his directive to the in charge of classified stores, Commissioner of Police Good Mwesigwa, Gen Kayihura said the full audit was to start with all police pistols.
He also demanded for a full accountability of all police pistols and other firearms adding that a computerized register of all the guns be developed.
In a letter dated December 13, 2017, Gen Kayihura also authorised CP Mwesigwa to take criminal and disciplinary action against any officer reported to have lost or mishandled firearms.
CP Mwesigwa is expected to implement Gen Kayihura's orders in one month.