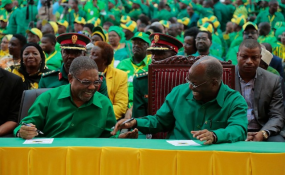 Photo: Daily News
By Josephine Christopher
CCM national chairman John Magufuli has said a Member of Parliament (MP) will soon defect from the opposition camp to join the ruling party as well as eight councillors.
Gracing the CCM's national executive council congress in Dodoma on Monday, December 18, he said a number of opposition politicians had expressed interest in working with his government during the past few weeks.
"Many more are coming... I am certain that one MP from the opposition camp will soon join CCM together with eight councillors," he said amidst rapturous applause.
He, however, could not name the MP. Recently, there has been an upward trend of opposition party MPs defecting from their parties and joining the ruling party in what they term "supporting President Magufuli's anti-corruption drive and nation-building initiatives".
This has, however, prompted holding of by-elections to fill vacancies in various parts of the country.