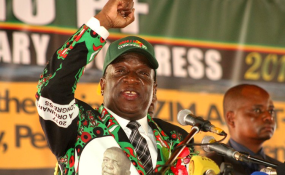 Photo: The Herald
ZANU PF is surviving on a song and a prayer, the ruling party's central committee report presented at during the just ended special congress has revealed.
The report presented by new leader President Emmerson Mnangagwa, Friday, also shows that the former liberation movement has a debt of nearly $20 million that is attracting over $2 million in interest charges monthly.
Mnangagwa rose to power following a military coup that forced former President Robert Mugabe to resign.
Mugabe 93, had been placed under house arrest under a military operation code named "Operation Restore Legacy" before Zanu PF triggered an impeachment process that forced the former guerrilla leader to step down on November 21.
The central committee report said Zanu PF's financial position is precarious.
"The party's financial situation however remains unfavourable. This has implications on the party's ability to honour its obligations, which in some cases have been outstanding since 2009 as well as rollout of its programs and activities," the report indicated.
Besides donations and "forced contributions" from citizens and the private sector, Zanu PF's major source of income remains a government grant under the Political Parties Finance Act. The Act provides for financial support to parties with representation in Parliament.
"Donations rose 40.6% during the period under review. This has seen the share of donations in total revenue increasing from 12.3% in 2016 to 16.5% in 2017. This may not be a favourable picture where the party relies on handouts.
"The bulk of the party's funding came from the government political parties grant ($3 829, 658) although its contribution to the total revenue has been declining over the years. It declined from 52.9% in 2016 to 42.1% in 2017," congress heard.
Again, Zanu PF's membership cards seem to have been rejected despite the party using all manner of intimidation tactics against ordinary citizens.
"There has not been significant revenue from the sale and subscription of membership cards (0.4% of total revenue in 2017).
"It is anticipated that the inflows will improve from the sale of new membership card that is currently being introduced countrywide," the report said the party had received $1.5 million in donations from unidentified sources.