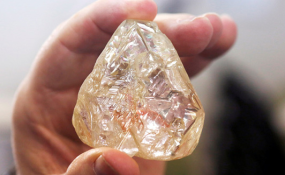 Photo: Rapaport Group
By Kemo Cham
Freetown — The pastor who found Sierra Leone's giant 'Peace Diamond' will not receive the entire proceeds from its sale because he was operating illegally, the government has said.
The National Minerals Agency (NMA), which oversaw the sale of the 706 carat diamond said to be one of the largest precious stones to be discovered in the country, said Pastor Emmanuel Momoh held no licence, in contravention of the Mineral's Act.
LICENCE
The pastor will, however, receive 40 per cent of the proceeds and the rest would go to the government.
The gem, which was sold earlier this month in New York for $6.5 million after several months of auction, was found in a village in the diamond-rich eastern Kono District.
The Director-General of the minerals regulatory agency, Mr Sahr Wonday, said the pastor engaged in mining while his application for a licence was being processed.
"They applied for one and the process was ongoing when they took to mining," Mr Wonday said, adding: "So technically, he did not own the diamond. The diamond belongs to the government of Sierra Leone."
MINING
Ninety nine per cent of artisanal miners in Sierra Leone operate without licences, according to NMA.
Often, someone with the ability to provide food and shelter sponsors groups of strong men to work for him, with the understanding that they give him whatever gem they discover.
NMA says the money from the sale of the giant diamond was kept in the government-owned Sierra Leone Commercial Bank, as the government engaged all stakeholders.
The agency said the proceeds would be shared according to the dictates of the Mines and Minerals Act.
PROMISES
The announcement was likely to occasion widespread displeasure in Kono where expectations have been high over the outcome of the auction.
Pastor Momoh had promised to undertake a number of development projects for the community using the proceeds.
It was unclear how the decision would impact his promises.