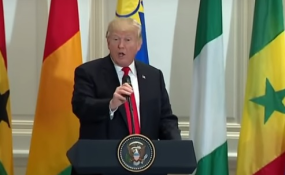 Photo: White House Video
By Frederic Musisi
Kampala — The United States has offered Uganda Shs1.7trillion ($436m) in development assistance for 2018, with the bulk going to the health sector and the rest distributed to areas such as economic development, democracy, human rights, governance, peace and security.
The new funding puts Uganda in the seventh position of top US aid recipients after Israel, Egypt, Jordan, Afghanistan, Kenya and Tanzania.
In the year ending, 2017, Washington offered Uganda $398m (Shs1.4 trillion) and $535m (Shs1.9 trillion) in 2016, according to data by the State Department's Foreign Assistance office, which coordinates the US foreign assistance programmes.
The increase in assistance by nearly $39m (Shs140b) highlights Washington's unchanged stance towards Africa contrary to what several critics anticipated when President Donald Trump assumed office.
President Trump in September hosted select African leaders to a luncheon at the sidelines of the 72nd session of the UN General Assembly in New York where he underscored his administration's plan to continue partnering with Africa.
Uganda, according to the Foreign Assistance office, is a "key strategic partner for the United States, particularly with regard to regional stabilisation."
Sustainable development
Besides working together to "resolve regional security threats and conflicts", Washington says its support is "critical for enabling democratic institutions to function effectively and fostering more sustainable and equitable national development elements that are essential to both short and long-term stability in the East Africa region."
Asked by Daily Monitor the rationale of funneling funds for deepening "democracy & governance" in Uganda against backdrop of ongoing frantic activity to amend the Constitution to remove the age limit clause, the US embassy spokesperson, Mr Phil Dimon, said their assistance "helps all Ugandans in determining how they are governed and contributes to health, prosperity, and stability."
Uganda's health sector is the biggest beneficiary of US aid spend, with approximately $488.3million or Shs1.7 trillion pumped in between October last year and September this year, according to a report titled "Report to the Ugandan people" released by the US embassy in June.
Mr Dimon in an email said the bulk of "our health assistance is for combatting HIV/AIDS through the President's Emergency Plan for AIDS Relief" with the rest spread out to health system strengthening and fighting malaria, tuberculosis and other communicable diseases.
Other areas "to ensure stability" that the US invested in according to the June report included programmes that promote peaceful dialogue as a means of avoiding conflict and violence.