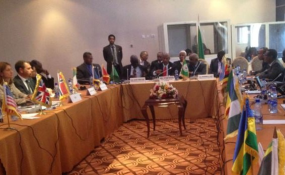 Photo: Eskinder Firew
By Desta Gebrehiwot
The Intergovernmental Authority on Development (IGAD) warned South Sudanese warring and conflicting factions to not fail their people again and use the last ditch effort of the high level revitalization forum to come up with comprehensive solution to cease all hostilities and unhindered humanitarian aid.
The High Level Revitalization Forum is being held here in the African Union after six months of preparation.
IGAD Head of States Summit Chairperson Prime Minister Hailemariam Dessalegn at the opening session stressed the need for sticking to the permanent peace agreement that was signed two years back.
Finding the way to implement the agreement is the only viable way to resolve the crisis said Hailemariam adding that the regional bloc and international community would not seat idle if the South Sudanese parties squandered the chance of resolving difference and restoring peace in the country.
The Chairperson also vowed to stand by the South Sudanese stakeholders in their search and quest towards peace and stability adding that the people have had enough pain and sufferings. He also urged all involved parties to compromise and avoid selfish mentality of own interests rather what is good for the people.
There are many issues remaining far apart and all parties in the new nation must now take difficult decisions and put their people and the country first. More than half of the people of the country are either refugees in other countries and face humanitarian crisis. This is mainly due to the failure of the leaders to talk to each other and negotiate and resolve differences.
Hailemariam expressed his conviction that the government and oppositions would keep their promise and commit themselves to stop the long suffering of the people.
IGAD Council of Ministers Chairperson and Minister of Foreign Affairs, Dr. Workneh Gebeyew for his part said that the forum is an opportunity for all parties in the country to show strength of character and political ability to achieve results acceptable to the entire people.
He said it is the leaders and oppositions that have the sole responsibility to save the country from sinking to a long and further chaos adding that the country's existence and peace depend on the parties' determination to provide real wisdom and commitment to the revitalized peace agreement.