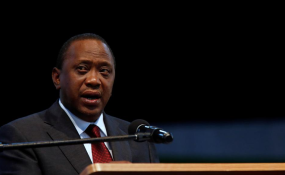 Photo: Le Pays
By Patrick Lang'at
President Uhuru Kenyatta has criticised the Opposition for allegedly being weak in its oversight role.
In an opinion article published in The Washington Times, the President accuses the Raila Odinga-led opposition of running theatrics that "may keep them in the newspapers, but they do not make them relevant".
President Kenyatta says that the Opposition had failed in its role to scrutinise and seriously inquire about government programmes in his first term, a task he says Kenyans expected of them.
DEMOCRACY
He says that Kenya had made commendable strides in other tenets of democracy and had a fearless and free press, a working devolved governance, a powerfully independent judiciary, and a vibrant multiparty democracy.
"I believe there remains a final element unaccounted for in Kenya -- required for our multiparty democracy to reach full maturity: a strong, bold and inquisitive elected opposition.
"One that holds government accountable for performance, the implementation of promises, and use of public money," the President wrote in the opinion dated December 18.
APPRAISAL
In the 769-word piece titled Kenya deserves a strong and credible opposition, the head of state, who was sworn in for a second term on November 28, argues that the Opposition had failed in its role to build a more democratic, and freer country.
"We have an Opposition that is competitive in elections, capable of rallying thousands to their cause, and with considerable strength in Parliament.
"However, for the past five years as key government decisions were made -- on infrastructure programmes, education, health and on military action against Al-Shabaab -- none faced the serious scrutiny that should be expected from an opposition in Parliament," he said.
"Instead of focusing on bread-and-butter issues, they have sought a new referendum on Kenya's constitution -- a document they helped create."