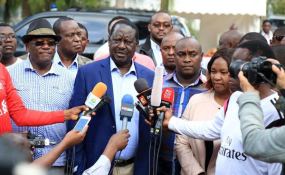 Photo: Dennis Kasivu/Daily Nation
opinion
By David Monda
Opposition leader Raila Odinga, a former Prime Minister, is at the crossroads in relation to his political legacy.
He has lost his fourth attempt at becoming the President of Kenya.
He does, however, remain popular. He is the de facto leader of the opposition, albeit the fact that he has no official executive or legislative portfolio such as president, governor, senator or MP.
After a gruelling cycle of electioneering that peaked on August 8 General Election and ended with President Uhuru Kenyatta inauguration on November 28, Mr Odinga is faced with a date with posterity.
He needs to consolidate his legacy as an icon in the fight for democracy.
RULE OF LAW
Unfortunately, Mr Odinga appears to have embarked on this journey with a major misstep.
He insists on declaring himself the "People's President" despite the fact that a constitutionally elected President is already in office.
There seems to be no other reason for Mr Odinga swearing himself in as "People's President" other than that of massaging his bruised ego.
This will have a debilitating effect on his legacy as a champion of democracy.
It could also undermine the rule of law because the Supreme Court has already ruled on several petitions filed in the court challenging the election of President Kenyatta in the repeat poll held on October 26.
ELECTION PETITIONS
Mr Odinga and his colleagues were enthusiastic in praising the Supreme Court's decision to nullify the election of his President Kenyatta.
They were also glad to go along with the court's decision when it was in the National Super Alliance's (Nasa's) favour.
It is now unwilling or unable to accept the Supreme Court's ruling when it goes against his coalition's liking.
This contempt for the rule of law by Nasa does not help the process of democratisation in Kenya.
On the contrary, it entrenches the culture of impunity and lack of respect for the rule of law and Kenya's legal institutions.
SECESSION
To Nasa supporters, it reinforces the notion that it is okay not to follow the law when the losing side of an election contest does not like the decision of the courts.
This stance creates the impression that Mr Odinga is ready to risk the lives of his supporters (many of whom are poor unemployed youth) in street demonstrations and confrontations with the police in order to become the President.
Two other conflicting agenda items damage Mr Odinga's legacy.
First, is his allies advancing of secession for counties that support him.
Secondly, his advancing of "People's Assemblies".
These assemblies have no constitutional basis, compete for limited public financial resources with county assemblies and do nothing more than balkanise Kenya further along ethnic lines.
REFORMS
Kenya already has national and sub-national governments in the form of the National Assembly and county assemblies.
Mr Odinga can use these legislative arms to advance a political agenda around electoral reforms, inclusivity, extrajudicial police killings and the deteriorating economic situation.
This agenda can be advanced through governors, senators, MPs and Members of County Assemblies elected on the Nasa ticket.
Advancing a secessionist agenda and amorphous "People's Assemblies" risks throwing Kenya further into political turmoil and economic malaise.
It could damage Mr Odinga's legacy as a champion of democracy.
YOUTH
I would urge Mr Odinga to mentor younger leadership to advance the ideals he has advanced over his lifetime in politics.
His legacy hangs in the balance as he continues to pursue extra-legal methods to access the presidency he feels was wrongly denied to him through the ballot box.
The future of Kenya's democratic consolidation is at stake as well as Mr Odinga's legacy.
It is my sincere hope that he will make prudent decisions to help entrench the rule of law for posterity.
Dr Monda teaches political science at City University of New York's Guttman College. david.monda @guttman.cuny.edu.