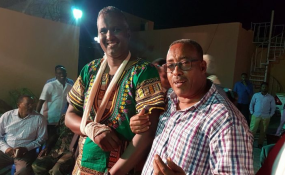 Photo: Radio Dalsan
Somali opposition Party leader Abdirahman Abdishakur who was in jail for the last three days was set free last night at a time that coincides when he was arrested from his Mogadishu home on Sunday night. The government has accused Mr Abdishakur of receiving money from foreign countries to destabilize the country, an allegation that his close allies deny.
The politician was arrested after a fierce fight between his guards and the government security officers who were acting under a search warrant order on his home that led to the death of politician's four guards and driver.
He is expected to appear in court today for the second time where he is facing treasonable charges.
Abdishakur was released after senior government officials including senators, members of parliaments, regional state presidents, mayor of Mogadishu, other politicians and elders engaged the president and pushed for his release.
Sources close to the government said that he was released on condition that he will not speak to the media, hold any meeting and travel out of the country. However, Abdishakur's allies who were happy with his release didn't confirm the same.
After the release, the Daljir Party leader who suffered an injury on his right hand was seen happy and smiling in a photo he posed with some leaders.