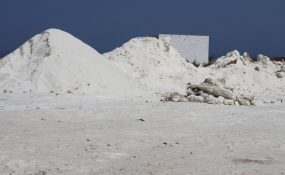 Photo: Angop
Luanda — At least 96.822 tons of common salt were produced from January to November, a figure well-short of the 250.000 tons a year the country needs for its needs.
Of the amount produced until November of this year, 93.856 tons were iodized, according to the national director of salt production and iodization, Sidalina da Costa.
The production of the last five years was 272.982 tons of common salt, of which 256.300 tons were iodized, explained the official who spoke on the situation of the production and the import of the salt in Angola, during a national meeting of salt producers.
Taking into account the size of the population, the official stressed that the country needs annual consumption of more than 250.000 tons and, with the current levels of production, a deficit of around 150.000 tons is assumed.
Regarding commercialization, she mentioned that most of the iodized salt is marketed in 25 kg bags and the salt is purchased more frequently to be traded in the informal retail market, by the food merchants and only the salt pans Calombolo and Sal do Sol are packed in bags of one kilogram and in negligible quantities.