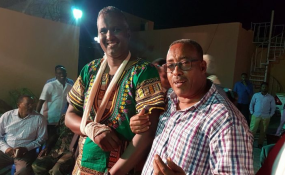 Photo: Radio Dalsan
The Somali opposition Daljir party leader Mr Abdirahman Abdishakur has won a legal case against him today.
Abdishakur was arrested after the government raided his Mogadishu home on Sunday night accusing him of linking with anti-government foreign countries and organizing meetings to destabilise the country. He was released last night after being in jail for three days.
Today he attended a court in Banadir to hear treasonable charges levelled against him by the government. At the end of the session, the court ruled that because of lack of evidence on the government side, it has reached a decision to acquit him from the charges and set him free.
Joyful Abdishakur said that he was happy with the verdict and thanked all those who worked hard to make sure that he is released and gets a fair trial. He also condemned those he said to have lied about him and were behind his arrest and killing of his guards and driver, saying that he will take a legal action against them.
He further added that the era to intimidate people with a gun is over.