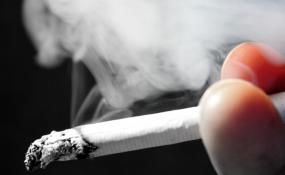 Photo: Premium Times
By A. Omaska Jallah
The plenary of the Liberian Senate was a scene of drama Tuesday when Bomi County senator Sando D. Johnson was seen smoking ciga in total violation of the Public Smoke Law and against the Senate's standing rule.
One of the standing rules of the Liberian Senate prohibits smoking at the Capitol.
But the Bomi County Senator, in total disregard to the law against public smoking and the senate standing rule, was seen parading with a bone ciga in the plenary during the appearance of the Chairman of the National Elections Commission (NEC) Cllr. Jerome Korkoya.
This action, most of his colleagues including senators Geraldine Doe-Sheriff of Montserrado County and Dan Morias of Maryland County, criticized.
In their separate statements, the senators wondered why a lawmaker will choose to violate a law that was passed by the very legislature.
"Senator Johnson, this is not a bluffing thing; you bluff until you bluff yourself; you are in session and in the Chambers as well," said Senator Morias.
"This is not honorable of a senator; this is the Chambers," Senator Doe said.
Several members of the public, during the appearance of members of the National Elections Commission were seen nodding their heads in disagreement to the senator's behavior, with some saying "no wonder why they say lawmakers are lawbreakers."
The ban prohibiting smoking in public places was passed into law by the Legislature in 2008 and the implementation took effect on September 26, 2011.
Public places that are covered under this restriction include buses, restaurants, and work places, among others.
The ban is part of efforts by the government to reduce the use of tobacco.
Global public health experts say it remains a challenge to educate Africans about the risks of secondhand smoke, which contains dangerous compounds like tar, benzene and carbon monoxide.
Secondhand smoke has been linked to cancer, low birth weight and chronic lung-related illnesses, particularly in children.
Liberia joins other African countries to pass public smoking ban in the past decade, though there is low degree of enforcement.