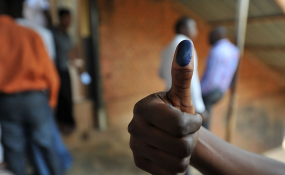 Photo: New Times
By Jimmey C. Fahngon
Ahead of the run-off election slated for December 26, 2017, the Chairman of the National Elections Commission (NEC) says the commission along with partners, have finally cleaned-up the final voter roll.
Addressing a news conference Wednesday, Cllr. Jerome Korkoya said during the cleaning-up process, it was established that 420 registered voters have double identification numbers.
This, he attributed to the company that printed the identification cards.
However, he said those 420 voters names were removed and replaced with new identification numbers to enable them participate in the run-off election.
Cllr. Korkoya further said another 274 double registered voters were identified and removed from the final voter roll.
He puts the number of registered voters on the final voter roll at 2,183,268.
Cllr. Korkoya said NEC, in keeping with the Supreme Court's mandate, has begun posting the final voter roll across the country and would complete the process on Friday, December 22, 2017.
He told reporters that the commission has communicated the information including the final voter roll with the two political parties, Coalition for Democratic Change (CDC) and Unity Party.
Meanwhile, Cllr. Korkoya said the run-off will go ahead as planned.
He disclosed that the commission has begun deploying sensitive materials across the country for the run-off.
Korkoya said training for poll workers is in progress and would complete in time for the election.
He called on Liberians to make the sacrifice to turn out in their number for the run-off.