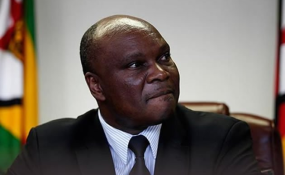 Photo: The Herald
By Mary Taruvinga - Court Reporter
Former mines minister Walter Chidhakwa who was arrested Wednesday in the new government's ongoing anti-corruption crackdown has been freed on $300 bail.
The case relates to alleged abuses at mines ministry parastatal the Minerals Marketing Cooperation of Zimbabwe (MMCZ).
Chadhakwa has been charged with criminal abuse of office as a public officer after he allegedly breached the MMCZ Act which stipulates that a minimum of six and a maximum of ten people should sit on the company board.
Former ministry permanent secretary Prof Francis Gudyanga was reportedly a lone board member at the company. He allegedly paid himself $30 000 in allowances for meetings he supposedly chaired and attended alone.
Gudyanga, who has also since been arrested, was lone MMCZ board member between December 2013 and December 2016.
Meanwhile, Chidhakwa appeared Thursday before Harare magistrate Josephine Sande who ruled that the State lacked sufficient grounds to deny him bail.
Prosecutor Tapiwa Kasema had opposed bail citing that Chidhakwa was a man of means and was, therefore, likely to abscond.
Kasema also argued that Chidhakwa was likely to interfere with witnesses since he is privy to MMCZ's day-to-day operations.
However, Chidhakwa's lawyer Advocate Sylvester Hashiti said bail knows no social status, race or sex, adding that the State had not apply its mind on the case his client is facing.
Chidhakwa will be back in court on January 4.
He becomes the second minister to be arrested after last month's military intervention which led to the resignation then president Robert Mugabe.
First to be picked up was former finance minister Ignatius Chombo who is now facing several corruption charges.