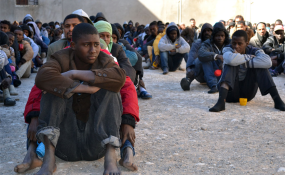 Photo: UN
By Adibe Emenyonu
Benin City — Worried by the number of indigenes deported from Libya, the Edo State government wednesday declared that for them to be fully integrated into the society, it is making efforts to recall all those deported to undergo compulsory HIV/AIDS test.
Executive Officer, Edo State Agency for the Control of AIDS, Mrs. Flora Oyakhilome, disclosed this while carrying out HIV/AIDS screening exercise on some of the deportees in Benin City.
According to her, "We are making arrangement to recall all those who have been deported to have them tested for HIV/AIDS. We have discussed with the Commissioner for Women Affairs.
"She said she is compiling the list so that they will have the exact data to know how to get these persons tested and integrated into the society."
Oyakhilome said the health of the returnees is very important to the state government who saw the need to get them screened for HIV/AIDS, adding that in case there is anyone with the virus, such would be given the needed care on time.
"We are here to look at those returnees from Libya to have them counselled and tested for HIV/AIDS virus. We feel that their health is important, their lives are important. So on that note, the state government has said they should be brought here for screening so that they will have a healthy lifestyle.
"And in achieving healthy lifestyle, they must be whole. So on that note, we decided to come in so as to collaborate with the committee to have them tested. Peradventure we find any that is reactive of HIV, we will refer them to the General Hospital so that they can access their drugs.
"It is okay at least, health is wealth, problem identified is half solved. So it doesn't really matter. These are private talks and it does not matter but we are getting good turnout.
"They are all co-operating with us. We thank the state government for this platform that they have given to us. And for bringing the people so that they can felicitate with their families and have a healthy lifestyle," he said.
The SACA boss, who refused to disclose the number of those that tested positive to the virus, said the screening exercise was still ongoing.
She said, "We have some that are positive to HIV/AIDS and some that are negative. If they are positive, we counsel them so as to know what they must do, refer them to where they can get free treatment.
"We are still on. You can see that we are still working and we cannot disclose the total number of those infected with the virus now because the work is still ongoing".