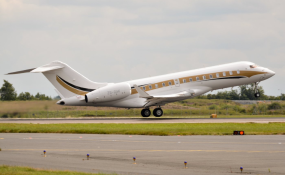 Photo: Plane Finder
analysis
Sadly, the brothers may soon be flying commercial. By RICHARD POPLAK.
ZS-OAK, the tail registration of the Gupta brothers' jet--a powerful symbol of the family's immense wealth and global reach--may soon be grounded.
Following an investigation by amaBhungane and Daily Maverick's Scorpio, which ran in conjunction with several pieces in Canada's national newspaper, the Globe & Mail, it was revealed that Canada's Export Development Corporation (EDC), ignoring the Guptas' political exposure, loaned the family $41 million to purchase their now infamous ZS-OAK private jet. The resulting fallout, along with the Guptas reportedly being unable to service the debt, has led to EDC cancelling the loan.
The jet was purchased from the sleaze-ridden Montreal-based Bombardier Aerospace, which has recently been involved in bribery scandals in South Africa, South Korea, Azerbaijan, and Russia, to name only a few. The #GuptaLeaks revealed that Bombardier had courted the Guptas over the course of 2014, and in December of that year helped facilitate a loan between Westdawn Investments, an arm of Gupta umbrella company Oakbay, and Bombardier Aerospace, for the purchase of a Global 6000 business jet. Subsequently, ZS-OAK has flown South African politicians around the world, included deputy president (and newly-inaugurated ANC president) Cyril...