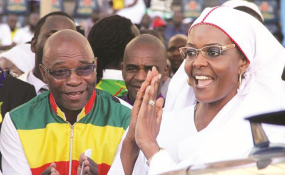 Photo: Tawanda Mudimu/The Herald
By Staff Reporter
Apostolic Christian Council of Zimbabwe (ACCZ) Archbishop, Johannis Nyamwa Ndanga, has been recalled as president of the sect for meddling in politics and supporting Former First Lady Grace Mugabe and her G40 crew.
Ndanga, who used to accompany Grace during her rallies, is accused by fellow clerics of violating the ACCZ constitution.
Speaking during a press conference in Harare Friday, one of the elders of the ACCZ Archbishop, Lameck Chitope, said government had ordered the removal of the Archbishop for openly supporting Grace who called for the expulsion of former Vice President Emmerson Mnangagwa who is now the country's President.
"The government no longer wants Ndanga to lead our Church after his involvement in politics after the Grace Mugabe 'Super Sunday' rally in Mbare. There could have been other problems in the Church but on this 'Super Sunday' rally all problems within the church started. Ndanga belongs to the G40. I have been tasked by the government to discuss these issues with him but, he has failed to turn up to resolve the issues," said Chitope.
Super Sunday ... Bishop Ndanga and Grace Mugabe
"Even at the inauguration of President Mnangagwa, the Archbishop did not recognise our new President and did not even greet him," Chitope added.
Archbishop Ndanga, who has claimed to be Life President of ACCZ, also faces other accusations by his church members among them the violation of church operational tenets and mandates. These include the alleged manipulation of the ACCZ appointment of patrons and failure to run the Council.
He also stands accused of misappropriating church funds amounting to more than $67 000.
"The constitutional violations have triggered and raised grievous concerns among many bishops whose churches are affiliated to ACCZ and have unanimously recommended the recalling of Archbishop Ndanga," said Archbishop Obert Vurayayi Matsveru, ACCZ deputy Secretary General.
Ndanga has been given 14 working days to respond to the allegations.
His Deputy, Archbishop Erizari Jaramba, will be Acting President of the ACCZ until 90 days after which a special Congress will sit to choose the next President according to the constitution.
Asked for response, Ndanga dismissed the allegations against him accusing fellow clerics of corruption.