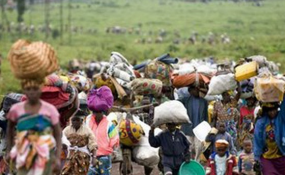 Photo: Angop
By Maryanne Gicobi
Tanzania will benefit from a $240 million aid budget from the United Kingdom to help maintain refugees.
The Theresa May government has pledged to give Tanzania an aid package of $73.3 million over four years, which will be used to support 300,000 refugees to stay in the country.
Tanzania is facing an influx of refugees from Burundi and the Democratic Republic of Congo following political uncertainty after the postponement of elections.
In December 2016, elections in DRC were postponed until the end of 2017, but the electoral commission has now scheduled them for April 2019.
Under the same project, Sudan will receive $16.1 million over five years to be given to people at risk of fleeing from the war-torn country.
According to United Nations High Commissioner for Refugees, an average of more than 1,800 South Sudanese refugees a day have fled to Uganda in the past year. The influx has become the fastest growing refugee crisis in the world.
The aid will be in form of cash and vouchers, health assistance and also support for integration of refugees returning to the country.
Falling numbers
Britain has been trying to slash the number of refugees coming from Africa.
Net migration to Britain over the past 12 months has fallen by the largest amount since records began, with EU nationals accounting for three-quarters of those who chose to return to their native country.
UK's International Development Secretary Penny Mordaunt said the money will help build infrastructure, create jobs and destroy smuggling routes across Libya, Sudan and Tanzania.
Libya will receive $6.7 million package to provide humanitarian aid and protection to migrants and refugees stranded in detention centers.
"The sheer scale of the migration crisis in the Mediterranean makes it one of the most pressing global challenge we face, and behind the numbers are millions of individual tales of both hope and tragedy," said Ms Mordaunt.
The money pumped into the African states will also indirectly benefit the local population in the host countries.
Last year, Tanzania also received $0.2 million for education in Dar es Salaam, including samba, acrobatics, juggling and trapeze lessons while some $0.8 million went on promoting "the cultural heritage of music and dance in North Tanzania."
Overcrowded camps
Data from MSF shows that refugee camps in Tanzania which housed close to 300,000 refugees were overstretched.
United Nations High Commissioner for Refugees puts total population in Tanzania that is of concern at 743,000 people.
MSF, which offers medical services at the camp, said it has recorded a fourfold increase in the number of outpatient consultations.
The camps were overcrowded with unsanitary living conditions which contribute to cases of malaria, diarrhoea, respiratory tract infections, and skin problems.
Uganda could also do with some aid considering the country is hosting the largest number of refugees on the African continent.
The country hosts 940,835 refugees and people in "refugee-like situations".