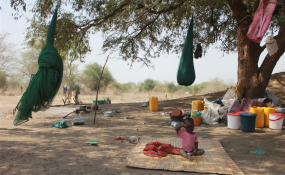 Photo: Andrew Green/IRIN
By Joseph Oduha
The South Sudan Chamber of Commerce has challenged regional bloc Igad to stem the flow weapons to the country.
Secretary-General Simon Akuei said the Inter-Governmental Authority on Development should do more to hold the South Sudan leaders accountable.
"Some people have taken advantage of the illiteracy levels in South Sudan to cheat the youth to take up arms.
"I tend to believe that our politicians and leaders seem to care for themselves but not the youth who were killed fighting for them," Mr Akuei said.
He said South Sudanese leaders were lacking the political will to end the violence that started four years ago, adding that the continuation of the war had forced many businesses to close down.
Revitalisation forum
The sentiments came as reports emerged from Addis Ababa that the peace revitalisation forum had failed to secure a deal to end the violence and allow humanitarian access.
The forum delegates reportedly failed to sign two critical documents.
The parties that declined to ink the documents were representatives of the Sudan Peoples' Liberation Movement -IO under the main armed opposition leader, Dr Riek Machar, and those of Former Detainees.
The war
South Sudan seceded from Sudan in 2011 but quickly entered into war in 2013 after feud between Dr Machar and President Kiir turned violent.
The war has claimed more than 100,000 lives, mostly of children and women, according to the International Crisis Group.
President Kiir recently apologised for the human rights abuses committed during the war.