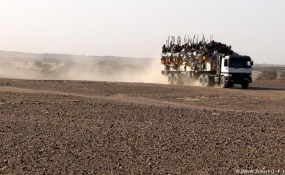 Photo: Deutsche Welle
By Abdullateef Aliyu
Lagos — A returnee from Libya has given insights into the operations of trafficking syndicates responsible for luring young Nigerians to Libya.
The returnee, an indigene of Ondo State South - West Nigeria, who identified herself as Bola Lawrence said she got to Libya in the early 2016 through a friend who connected her to another agent.
However, she disclosed that it appeared the trafficking agents use charms to lure young girls and boys to Libya, saying just last week, 14 girls and six boys were trafficked to Libya.
She was one of the 157 immigrants that were repatriated from Libya on Wednesday in continuation of the massive return of Nigerians who were stranded in Libya as facilitated by the International Organization of Migration (IOM) and the European Union (EU).
Narrating her ordeal further, Ms. Lawrence noted that the trafficking business thrives in Nigeria because of corruption, recalling that a suspected trafficker was arrested in Libya and repatriated to Nigeria for prosecution but she was later released and has returned to the business.
She said, "Don't blame Nigerian people in Libya. They used Juju because when they tell you, you won't get yourself and you just go with them. When I got there, the situation changed and I requested to be returned. But they asked me I was going to work for year and I would be free. When you get to Libya, you won't have access to them again."
Ami Folayo, another returnee from Ibadan, Oyo State said she regretted her decision to go to Libya, disclosing that she was doing fine as a salary earner in Nigeria.
She stated that she initially paid N53,000 to the agents and later worked for one year to pay the agent N600,000 to cover the travel expenses.