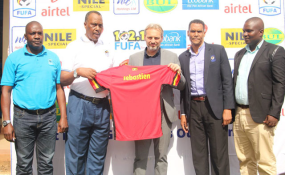 Photo: FUFA Media/The Independent
By Ismail Dhakaba Kigongo
Kampala — The next Uganda Cranes' coach, to be announced today, will cost at least US$20,000 (Shs72m) monthly upon their appointment.
Daily Monitor has learnt that Fufa did submit their demands to government through the ministry of education and sports hoping to split the cost between the two parties.
"Fufa informed us that their monthly outlay for the national team coach should be about US$20,000," an official familiar with the goings-on told this newspaper.
"What they (Fufa) propose is a 50-50 split in taking care of that cost," the ministry official added.
Previously, the Fufa president Moses Magogo has sought for 70-30 split between government and the federation respectively.
For the first time, Fufa has involved government in the appointment process of the national team coach, hoping that the pay becomes part of the latter's responsibility.
A four-man shortlist that includes current interim coach Moses Basena and Portuguese Emilio Ferrera.
Others to make the cut from over 90 applicants are Desibare Sebastian (France) and John McInstry (Northern Ireland) after Fufa set up a committee to pick a coach.
The 'delayed' appointment of a substantive coach for the Uganda Cranes is also down to when the money should be paid as Fufa has reneged on its promise to have one in place by November 15, a deadline that passed.
What else would it have been? Daily Monitor has also learnt from sources that the ministry of education and sports informed Fufa that they must wait until next July.
"The budgets for the (financial) year (2017/18) were already passed and money has been spent," the source told us.
"The good thing that Fufa have done is engage government this early so that cost can be catered for in the next budget," the official added.
With Uganda's budget running from July 1 - June 30, the latter assertion would then imply that government would only commit to pay from July 1, 2018.
For this year, the ministry was allocated Shs2.5 trillion. Only Shs1bn of this is allocated to the sports subsector through the National Council of Sports (NCS).
From this envelope, NCS is supposed to take care of more than 30 associations registered under it.
If government were to foot 50% of the proposed deal, the ministry would have to avail Shs432m annually, nearly half of the entire sports budget.
In such cases, the ministry should put this in their budget process, that will start in the first quarter of 2018, for the next financial year 2018/19.