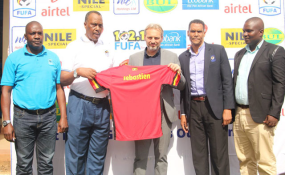 Photo: FUFA Media/The Independent
By Denis Bbosa
Kampala — Frenchman Sebastien Desabre first fell for African football eight years ago, and has now taken it to another level by handling his first national team - Uganda Cranes.
As he was unveiled at Fufa House yesterday, in a packed press room, the 41-year-old kept his calm and looked every inch of a man on a mission.
"Thanks for the federation (FUFA) for the confidence they have showed me," Sebastien said in a very hot room, that for once felt too small for the media present. "I have worked for eight years with big clubs, it is another step in my career with the national team," he said in a deep French accent.
He replaces Serb Milutin Micho Sredojevic who left the job in July over unpaid wages. Former assistant Moses Basena has been in interim charge since and Fufa are sending him to the US next year for a course.
Just on Wednesday, Sebastien had helped Egyptian side Ismaily thrash El Raja 5-0 before jetting in yesterday to put pen to paper on a three-year deal. He leaves Ismaily top of the Egyptian Premier League with 37 points from 16 games, while giants Al Ahly are second with 30 points from 13 games played.
"I'm very glad to be here, we have the same target together and I want to improve my knowledge and improve the Uganda team. "It is an honour for me to improve the national team and I'm looking forward to the Chan although it comes quick," Sebastien, in a neat fitting grey suit and dark blue shirt, said.
Uganda Cranes' team for next month's Africa Nations Championship (Chan) in Morocco had already been named. While Sebastien joined training yesterday, his involvement is minimal.
The nomad?
You would call him a nomad for his brief stints at ESC Rocheville (France) as an assistant, ASEC Mimosas (Cote d'Ivoire), CS Garoua (Cameroon) and ES Tunis (Tunisia). Stints at Clube Recreativo Desportivo Libolo (Angola), Dubai Club (United Arab Emirates), JS Saoura (Algeria), Wydad Athletic Club (Morocco) and Ismaily litter his CV.
"I have one personal objective to improve year by year; I worked with the biggest club in Africa. I will improve with the Uganda team because I have coached in Egypt which to me is the best in Africa. It's a big contract and we have the time," he stressed.
On the backdrop that his predecessor Micho quit because off unpaid salary arrears, Sebastien revealed he had a clause in his contract that would cater for that.
"Sebastian is an experienced coach within Africa. He passed the evaluation system and we are glad he has accepted to come in to perform under a three year contract," Fufa chief executive officer Edgar Watson said.
"We agreed to engage the coach through a confidential contract and we won't say much about his salary."
It is presumed Sebastien to be deputised by Mathias Lule as the immediate assistant coach and Fred Kajoba (goalkeeping coach), will bag a monthly pay of Shs72 million (US$20,000).
As he prepared to take on the team training later yesterday at Namboole, Sebastien promised to unleash an attacking football philosophy because he knows some players in the Cranes already.
SEBASTIEN AT A GLANCE
Date of birth: Aug 2, 1976
Place of birth: Valence,France
Age: 41
Nationality: French
Trainer licence : UEFA A licence
Preferred formation: 4-2-3-1
Clubs managed;
ESC Rocheville (France) as assistant,
ASEC Mimosas (Cote D'Ivoire),
CS Garoua (Cameroon),
ES Tunis (Tunisia),
Clube Recreativo Desportivo Libolo (Angola),
Dubai Club (United Arab Emirates),
JS Saoura (Algeria),
Wydad Athletic Club (Morocco)
Ismaily