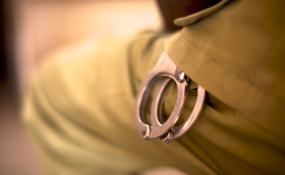 Photo: Justice for All Nigeria
By Evelyn Usman
Ogun State Police Command has arrested a man for allegedly killing his six-month-old baby over suspicion that his wife would abandon him for her former husband.
The suspect, Andrew Koku, who admitted to the crime, told detectives at the State Criminal Investigation Department that he smashed the baby's head on the ground out of fear of losing his wife, Omowunmi Teleda.
The incident occurred on Christmas eve in Obada area of Abeokuta, the Ogun State capital. Mother of the child, Teleda, claimed that she left her baby in her husband's care to visit her older child, who was in her former husband's custody.
However, on her return she discovered that her baby, Precious, was motionless. Apparently thinking she was sleeping, she reportedly shook her with the intention of breastfeeding her. But there was no response from the baby.
At that point, she said she became suspicious and reported the matter to the Police.
The Ogun State Police Public Relations Officer, Assistant Superintendent Abimbola Oyeyemi, who confirmed the incident, said: "She explained further that the baby was hale and hearty before she left home.
"But within an hour of her outing, the baby had dropped dead. This made her to strongly suspect her husband who happened to be the only person with the baby.
"Upon her complaint, the DPO Adigbe Division, CSP Sunday Oladipo, detailed Police detectives to the scene, where the suspect was arrested on December 24.
On interrogation, the suspect confessed to the crime but claimed to be suspecting that his wife wanted to leave him for her ex-husband and that if that should happen, he will not be able to take care of the baby; that was the reason why he decided to eliminate the child.
The Commissioner of Police, CP Ahmed Iliyasu, has directed that the case be transferred to Homicide Section of the State Criminal Investigation and Intelligence Department, CIID, for proper investigation and prosecution of the suspect.