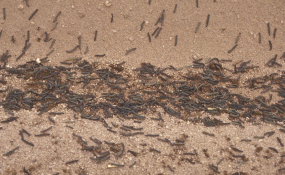 Photo: ChriKo/Wikipedia
By Evans Mulenga
About 10 hectares of maize fields in Kalumbila District of North Western Province have been invaded by the fall Army Worms and stalk borer.
The deadly caterpillars have caused extensive damage to crop in most maize fields.
Local farmer Johnson Mwikala has confirmed that their maize fields have been invaded and crops destroyed by the Army Worms in Mabombola area under Chief Mumena's Chiefdom.
"The situation is quiet bad here if you check around you will realise that all these farms about ten of them approximately ten hectares, the crops are damaged at this stage the only solution is to replant because heart of the crop is all eaten up" Mr Mwikala confirmed.
He said farmers woke up to a rude shock when they found their maize fields invaded by the Army Worms.
Another farmer Exildah Kiloka complained that government had delayed to provide them with chemicals as promised during the start of the farming season.
She said some government officials that visited the area told them that government was aware of threats to the crops army worms posed and was ready to respond.
"We were assured that government will help us with the chemicals but I think they have delayed because even if we spray now it makes no difference because these crops are gone, some of us our E Voucher Cards have not even been activated and this is very difficult to access the chemicals" she stated.
Kiloko appealed to government to come to their aid and spray the remaining maize fields as further delays will worsen the situation.