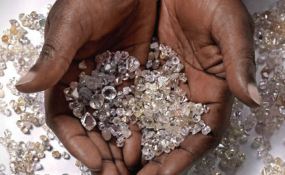 Photo: The Herald
By Fungai Lupande
A diamond sorter at Marange-based Zimbabwe Consolidated Diamond Company (ZCDC), who is accused of conniving with three other employees to steal diamonds worth half a million dollars and replacing them with fake gems, has been denied bail. Anesu Dhliwayo (34) was remanded in custody to January 12 after Harare magistrate Ms Rumbidzai Mugwagwa ruled that he is a flight risk.
His accomplices, internal security guard Tobias Mukundu, diamond sorter Elphas Dhaka and a closed circuit television operator Stalin Munyanyi have already appeared in court on similar charges of theft. Prosecutor Mr Sebastian Mutizirwa opposed bail for Dhliwayo saying he was a flight risk.
"This case involves theft of about $500 000 worth of diamonds from his employer who earns revenue for the Government," he said. "The accused bought a Toyota Wish with proceeds from the crime. Not much of the stolen property has been recovered."
Dhliwayo's lawyer Mr Andrew Mugandiwa submitted that the State failed to forward cogent reasons warranting denial of bail.
"His co-accused Mukundu, Dhaka and Munyanyi have been granted bail on same charges," said Mr Mugandiwa.
It is alleged that between January 1 and December 21 this year, the quartet connived with an illegal diamond dealer and Tapiwa Marange, who is still on the run, to steal from ZCDC. The court heard that the accused took turns to smuggle fake and low quality diamonds into the sorting house. It is alleged that Mukundu and Munyanyi provided a safe passage of the fake diamonds into the sorting house.
The accused replaced the diamonds with real ones, whose weight was the same as the fake ones, to avoid being detected. Mukundu and Munyanyi allegedly provided safe passage of the high quality diamonds out of the sorting house. It is alleged that they sold diamonds worth $500 000 and shared the proceeds.