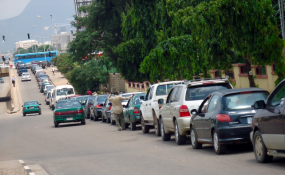 Photo: Premium Times
By Terhemba Dakaa and Ayodele Afolabi
Minister of State for Petroleum Resources, Dr. Ibe Kachikwu, and petroleum marketers will today hold a crucial meeting at the headquarters of the Nigerian National Petroleum Corporation (NNPC) in Abuja to consider the re-involvement of private sector operators in the importation of petroleum products. The corporation currently imports 100 percent of petroleum products into the country as against an earlier arrangement of 60-40 percent government, private sector participation.
Kachikwu spoke to State House Correspondents after the stakeholders adjourned a meeting convened by the Chief of Staff to the President, Abba Kyari at the Banquet Hall of the Presidential Villa to resolve the fuel crisis experienced during the yuletide season.He said President Muhammadu Buhari had directed the setting up of an ad-hoc committee that would engage the Federal Government on the best way to bring back oil marketers to import the products in order to meet the daily consumption requirement in the country.
"We set up a committee which I will head. Members include the group managing director of NNPC, most of the parastatals in the ministry, Deport And Petroleum Marketers Association of Nigeria (DAPMAN), Independent Petroleum Marketers Association of Nigeria (IPMAN) and labour unions. We are to meet in my office tomorrow (today) and dig deeper into this thing and find a long term solution.
"This is a major concern that Nigerians should not be made to suffer, Nigerians do not get through the kind of thing they went through this December. We want to find lasting solution and that is what the committee will come out with in the resolutions."
On President Buhari's decision to punish erring marketers who he said had conspired to sabotage his governments efforts at making petrol available to Nigerians, the minister said: "The thing is even that Nigerians who have suffered will want to be sure that we find a lasting solution and find evidential basis upon which to punish people. This is a democratic government. He said the Federal Government was yet to find any evidence against one individual for sabotage. "I don't have one yet, if you have one I will like to have it," Kachikwu noted.
The Depot and Petroleum Marketers Association of Nigeria (DAPMAN) absolved its members from hoarding petroleum products. Fielding questions from the newsmen, the Chairman, Dapo Abiodun said:
"There was no hoarding on the part of any marketer. Marketers are your brothers, they are Nigerian citizens, they are businessmen, no marketer makes money from hoarding petroleum products, our business is to take petrol and sell."
The BOT chairman of IPMAN, Aminu Abdulkadir, said the meeting today would afford the opportunity to make full disclosure on ways of augmenting marketers' shortfall so that they can come back to the business of fuel importation.
Meanwhile, Ekiti State Governor Ayodele Fayose has faulted President Buhari's claim that some Nigerians were deliberately inflicting hardship on their fellow citizens by creating the current fuel scarcity.In his New Year message, President Buhari had said; "Some of our compatriots chose this period to inflict severe hardship on us all by creating unnecessary fuel scarcity across the country. Whatever groups that are behind this manipulated hardship will be prevented from doing so again."
In a statement yesterday by his Special Assistant on Public Communications and New Media, Lere Olayinka, Governor Fayose said: "The president should rather take responsibility, apologize to Nigerians and stop blaming others for his failures because apologizing when you are wrong is the hallmark of honest and sincere leaders.
"What is wrong if he had said sorry to Nigerians who are at the receiving end of his bad policies? But in the case of President Buhari, he will always have someone to blame for his own failure."As a military Head of State, he blamed former President Shehu Shagari's government. Since he assumed office, he has been blaming his predecessor. And now that he can't provide fuel for Nigerians, despite claiming to have removed fuel subsidy, he is blaming some unknown
Nigerians. When is he going to be man enough to stop his blame game?"
The governor said rather than blaming people, what Nigerians expected to hear from the President was what had been done and was being done to stop the loss of millions of jobs and hunger that is ravaging the land as well as wanton killings going on across the country.
Fayose said: "Nigerians are aware that petrol is scarce across the country because the Federal Government deliberately reduced supply since it is only the Nigerian National Petroleum Corporation (NNPC) that is importing the product. This is aimed at forcing increment in pump price from N145 to N185 per litre on Nigerians.
"The other time, Vice President Yemi Osinbajo's said that the NNPC was bearing the cost of fuel subsidy and not the Federal Government and we asked; what is the difference between NNPC and the federal government? Who is NNPC and who is Federal Government? Is NNPC now an autonomous agency of the Federal Government?"
"Nigerians are tired of Buhari's repetitive speeches and unfulfilled promises. Nigerians are crying that he should give them responsive and competent Cabinet. Nigerians want the president to create jobs for the suffering masses and make life more abundant for them."
The governor, who said everything was wrong with Nigeria under President Buhari, stated: "The country is not secured. Look at the horrific and disheartening killings in Adamawa, Kaduna, Benue, Borno and Rivers states between yesterday and today. The President is totally not in charge of the country. The cabals only brief him and whatever they tell him is what he accepts. Nigerians want their president to take charge and stop
buck passing."He should show to Nigerians that he is a changed president by bringing those looters in his government to book."
Fayose said Buhari should gauge public opinion to see that the people were no longer with him. "He should listen to Rev. Father Mbaka who used
to be his supporter but has now been telling the truth of how disappointed and frustrated Nigerians are with him.People are only tolerating Buhari and counting days and times for them to shove him out of office in disgrace like Mbaka said."