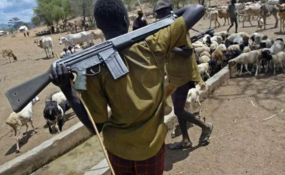 Photo: The Guardian
By Hope Abah
Makurdi — Gunmen have killed at least 20 people in early morning attacks on two local government areas of Benue State.
Daily Trust gathered that the people died in the six villages of the affected local government areas of Logo and Guma in the wake of the invasion by the gunmen on Monday and yesterday.
The police spokesman, Moses Joel Yamu, confirmed the attack but could not ascertain number of the dead at the time of sending this report.
But Governor Samuel Ortom who spoke to newsmen shortly after an emergency state security meeting in Makurdi, said that over 20 people had been killed according to the reports available to him.
Ortom who proceeded to the Benue State University Teaching Hospital (BSUTH) in Makurdi to see the wounded lamented that more dead bodies were being brought into the morgue from the troubled communities.
"What we have just seen today is just the tip of the iceberg. What happened in the villages was far beyond the report we earlier received that more than 20 people have been killed and amongst them nine of the livestock guards who were there to ensure that there are no clashes.
"Even innocent women and children were killed. This is not fair. This is not acceptable. We are not going to accept it. There is no going back on the implementation of the grazing law. This is our land and the law was duly passed by our people," Ortom said.
The governor said since enacting the grazing law, there had been threats from some herders' groups which he had consistently drawn the attention of the Federal Government to but nothing seemed to have been done about it.
He added, "Now, those people who have been killed, their blood will cry to the Federal Government and if the Federal Government does not do something, their blood will cry to the Almighty God and I'm sure that God will deal with the situation Himself."
Our correspondent learnt that the affected villages included Gambe-Tiev, Turan and Ayilamo of Logo LGA and Akor, Tom-atar and Umenger in Guma LGA respectively.
At the BSUTH, a medical practitioner of Department of Surgery, Dr. Gajir Tsoho, confirmed that 30 injured people were brought into the hospital facility. Among them were Akaater Azera and Mary Kume who were brought in with severe wounds from Tom-atar village of Saghev ward in Guma, the LGA where Governor Ortom hails from.
Meanwhile, the areas have been deserted while many people are said to be missing in the attack which happened variously at 10am on Monday, January 1 and 4am yesterday respectively.