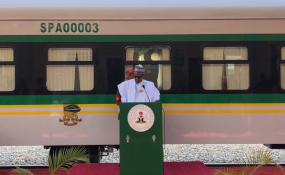 Photo: Govt of Nigeria
By Abdullateef Aliyu
Lagos — Three of the new coaches acquired for the Kaduna-Abuja standard gauge rail services have left Lagos for Abuja ahead of their commissioning by President Muhammadu Buhari.
The Federal Government bought 10 new coaches for the Kaduna- Abuja rail service which has recorded massive patronage.
To increase the capacity of the rail services, the Ministry of Transportation through the Nigeria Railway Corporation (NRC) acquired the new coaches which are already in the country.
Daily Trust in Lagos saw three of the new coaches being conveyed in a trailer along the Lagos-Ibadan expressway. It was learnt that the coaches are headed to Abuja, the Federal Capital Territory (FCT).
It would be recalled that four of the coaches had earlier arrived Abuja while the remaining six are being expected.
Out of the 10 new coaches which are already in Lagos, six are Economy, two Business class and two baggage vans.
Spokesman of the NRC, Mr. Mahmoud Yakubu, who confirmed the development, said the President would soon commission the new coaches which would boost the capacity of the Kaduna-Abuja train services.