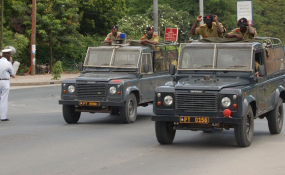 Photo: The Citizen
By Rosemary Mirondo
Dar es Salaam — The Ministry of Home Affairs plans to form a Commission of experts to look into 53 police vehicles that were recently cleared at the Dar es Salaam Port and are currently packed at Kurasini Police College to establish their worthiness.
This is after Ministry's deputy minister Hamad Yusuf Masuani made a tour at the college and Dar es Salaam port to inspect the vehicles that had been ordered by the ministry and discovered that five out of the 53 vehicles had mechanical defections.
Further, he said that the Commission which is expected to have experts from the National Institute of Transport (NIT) and Tanzania Electrical, Mechanical and Electronics Services Agency (Temesa) will also be required to review contracts that were entered to purchase police vehicles to determine why they were of the same make while the police were in dire need of assorted numbers of cars.
"The commission should be formed immediately though I will not set time limit without first having terms of reference as this is not a political issue but matter that needs professional expertise," he said.
He noted that the ministry in 2013 entered a contract with Ashok Leyland to supply the police force with 777 vehicles worth $29.6 million, which was a loan from World Bank, but so far the 53 vehicles that have been cleared at the port were shrouded in controversy after President John Magufuli discovered they were just parked at the port.
In view of this, he said the vehicles which are yet to be handed over to the police until Post Delivery Inspection (PDI) is completed, five of them have technical faults ranging from injector pump casket, speed meter and key sensor despite them being brand new.
In another development, he said the 119 vehicles that are still packed at the port need to be cleared immediately to do the work that was planned for them as they have been there since November 5 last year.
For his part, Ashok Leyland technical officer Raghu Donepudi told the Minister that they did a thorough inspection of the vehicles when they arrived in the country and 48 were found in good condition while 5 had minor faults.
Meanwhile, the head of Logistics and Transport, Mr Sadock Bwire, said that the Police have ordered for 777 vehicles but so far only 234 have been supplied.