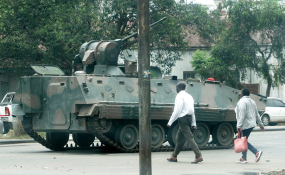 Photo: The Herald
FORMER Finance Minister Tendai Biti's opposition party has warned that the military's overbearing influence on the country's political affairs still presented conditions of another coup in the country.
Responding to last Sunday's brutal attacks on eight Mthwakazi Republic Party (MRP) youths by police and the army, the People's Democratic Party (PDP) said the army has been allowed to dictate in State affairs.
PDP, in a statement, made reference to earlier remarks expressed by its leader in South Africa over a month ago in which Biti warned that "once tanks are on the street or a television programme has been interrupted by men in uniform, it is just a matter of time before it happens again".
"This is the challenge we face today but it is not a challenge that only the opposition in Zimbabwe must be concerned about but everyone else must be concerned," said PDP.
"The appointment of General Chiwenga as the Minister of Defence against the demands of the constitution expresses fear of self-replication of the coup.
"We respectfully submit that micro managing the army is not a solution to military tanks rolling back into the streets someday."
Since tanks were deployed on the streets last November to push out then President Robert Mugabe, Zimbabwe's military has remained a prominent feature in police and civilian affairs.
This, however, was seemingly allowed to subsist as part of the army's ostensible attempts to fill a void created by regular police who were pushed to the fringes of their co-business following the November 14 coup.
But since the military announced the end of its operation last month, it is their involvement in the seizure, detention and torture of anti-Mnangagwa protesters that has enraged activists and political opponents.
The MRP youths were arrested in Bulawayo on new year's eve for staging a demonstration against President Emmerson Mnangagwa's alleged involvement in the massacre of an estimated 20,000 civilians in Matebeleland and Midlands provinces soon after independence.
PDP called for long lasting solutions to end continued meddling in civilian affairs by the military.
"The solution lies in the will to deal with roots of the coup; this includes solving the underlying problems and the mechanisms around the use of military infrastructure," said PDP.
"The authorities must deal with the political economy of the coup through embracing the principles and rules set out in section 211 to section 217 of the constitution. There is no substitute to this.
"What happened in Bulawayo two days ago is counter progressive because it is a continuation of the older order which centred around military coercion of dissenting views."
PDP called for the transformation of the security sector to ensure the military concentrated on its professional duties "with a clear demarcation from civilian politics".