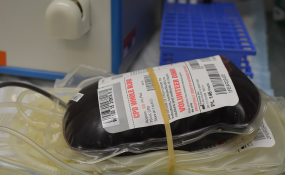 Photo: Robert DeLaRosa/Pixabay
Three days' worth of blood is all that remains at the South African National Blood Service (SANBS) in KwaZulu-Natal, the provincial department of health said on Wednesday.
With the main source of blood - students - away for the holidays and factories closed, the SANBS currently has enough blood to last just 3 days in KwaZulu-Natal, Health MEC Dr Sibongiseni Dhlomo revealed.
Dhlomo added that nobody should die in hospital as a result of a shortage of blood.
"And we, the public, can make all the difference to ensure that this does not happen," he said at the SANBS depot in Umlazi Mega City, south of Durban, where he donated a pint of blood on Wednesday.
"We often hear of a shortage of blood and that is always concerning because, if there's a shortage, then it means you can't access blood from our hospitals. So, I'm here to give my contribution but also to plead with South Africans to consider donating a pint of blood.
"One pint of blood can help a pregnant woman who has bled too much or a cancer patient who needs it, or someone who may be in an accident. So, it's a gift of life," said Dhlomo, who is a regular universal O-blood type donor.
Dhlomo said donating blood was "Godly" because it's about giving another person the precious gift of life.
"I would wish that nobody should die in a hospital just because we are short of blood. We all need to mitigate against that," he said.
In order to become a blood donor, according to the department, you must:weigh at least 50kg;be between the ages of 16 and 65;lead a safe sexual lifestyle;be in general good health; andconsider your blood safe for transfusion to a patient.
Source: News24