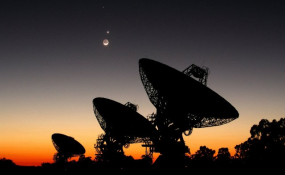 Photo: Daily News
By Isiaka Wakili
The Chinese Exim Bank has agreed to pay the $550 million Nigeria needs to procure two new satellites, Communications Minister Adebayo Shittu said on Wednesday.
The minister disclosed this to State House correspondents after meeting with President Muhammadu Buhari.
Shittu said the Chinese bank agreed to this following the federal government's inability to meet up with its 15 percent counterpart funding.
"Initially, the agreement was that they will provide the cost of the two satellites, $550m minus 15% which is the counterpart funding. Because we could not afford this 15%, we've renegotiated with the China EXIM Bank and the China Great Walls who are the manufacturers and they've happily agreed to pay the entire $550m to procure two new satellites.
"The two new ones will ensure that the Nigerian satellite company which is NICOMSAT can conquer the entire African continent with regards to the provision of satellite communication services. This is a very big business opportunity and I'm sure that the Chinese appreciate the potential market which is so vast and that's why they've agreed that even without our ability to contribute 15%, they're prepared to pay the entire sum of $550m for the procurement of the two new satellites for Nigeria," he said.
The minister said "it's not a loan. It'll be equity participation of the Chinese company into our business. NICOMSAT is a limited liability company owned entirely by the federal government. So, they're paying that to finance these highly required facilities and we'll agree on the percentage sharing. Of course, Nigeria has nothing to lose because we're not putting anything into it in terms of financial resources."
Asked when will Nigeria launch the two new satellites, he said: "It takes two years to produce because it's when we sign the papers they'll start production. We hope that before the end of this month, we'll sign the papers and then they'll commence the production. It's upon the completion of the production that the two satellites will be launched.