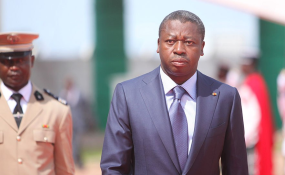 Photo: Républicoftogo
President of Togo, Faure Gnassingbe, has reiterated his call for the opposition to accept dialogue as the government presses for an end to a running political crisis.
In his New Year addressed delivered to the nation on Wednesday evening, he called for opponents to join talks aimed at settling their differences and moving the nation forward.
"I have faith in our ability to transcend our differences to evolve the institutional and political framework, while preserving the social fabric. I remain convinced that the only outlet that allows us to find the way back to progress is dialogue," he said.
The 14-member opposition coalition has since August 2017 called for anti-government protests in the capital Lome and across other cities in the West African country.