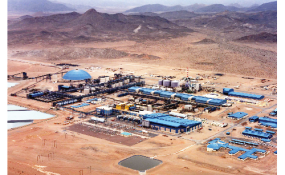 Photo: Namibia Economist
By Matheus Hamutenya
Keetmanshoop — Workers of Skorpion Zinc Mine at Rosh Pinah want their managers taken to task over alleged drunkenness at work.
During a peaceful demonstration yesterday the workers in their petition, handed to the mines general manager Irvan Simaata, claimed that some of their managers have made it a habit of coming to work boozed up, but they allegedly refuse to take the breathalyser test like everyone else that enters the mine.
They also raised concerns over other unfair treatment and unsafe working conditions at the mine, and the tendency of high-paying management jobs seemingly being reserved for foreigners, according to the petition.
Mineworkers Union of Namibia (MUN) Rosh Pinah branch executive committee member, Petersen Kambinda, who read the petition at the protest, informed New Era in a telephonic interview that the workers have noticed with concern that their managers turn up at work intoxicated, and that they refuse to be tested for alcohol before entering the mine, while some have resorted to using a different entrance to the mine so that they can work drunk without being detected by security personnel.
He narrated that last year employees blocked one of the managers after he was seen to be under the influence, and upon being forced to take the alcohol test, it was proven that he was indeed under the influence of alcohol. Kambinda says such behaviour is unacceptable as it poses a danger to other employees.
He added that after that incident the workers had more reason to believe that what they had been suspecting was true - that the managers come to work drunk, hence their refusal to take the alcohol test, and their other weird behaviour.
"These people come to work and they refuse to blow, and if these drunk people are allowed to drive around the mine, what does that mean? This is a risk to the other workers," he said.
The workers demanded the immediate suspension of the four managers who are being investigated for allegedly coming to work under the influence, saying the policy of zero tolerance against alcohol and drug abuse should not be compromised.
The workers also expressed concern that the mine has repeatedly ignored advice from experts warning of possible dangers if there were any more overloads, which the workers claim caused a slope failure during December.
"The walls collapsed because the mine ignored all advice from the experts - it has become a norm that procedure and policies are ignored for the sole purpose of production, whereby safety standards drop, and lead to unsafe conditions, but people's lives should be number one before production at all times."
The petition also dealt with issues of lack of training and human development, lack of communication between Basil Read and the workers, while the workers questioned why South Africans mainly occupy management positions.