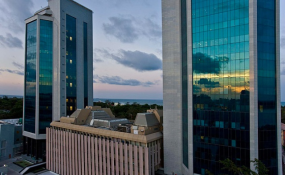 Photo: Daily News
By Hilda Mhagama
FOR the first time in history, the Bank of Tanzania (BoT) has closed five banks at a go and placed three others on the watch list for six months, due to undercapitalisation.
Announcing the revocation in Dar es Salaam yesterday, the outgoing BoT governor, Prof Benno Ndulu, mentioned the financial institutions as Covenant Bank for Women (Tanzania) Limited, Efatha Bank Limited, Njombe Community Bank Limited, Kagera farmers Cooperatives Bank Limited and Meru Community Bank Limited.
He explained, however, that before the move, they spoke with Community Banks Association of Tanzania (COBAT), urging them to join efforts and establish one large institution, and have the rest serve as branches, to reduce operational costs.
Prof Ndulu (pictured) said in 2012, BoT increased the minimum core capital requirement for community banks to 2bn/- from 250mil/- and they were given a five-year grace period to increase their capital.
"That period ended in June 2017, but we deliberately made a six-month extension to 31 December 2017, for them to have ample time to ponder our advice, but they made their choice and eight banks did not fulfil that requirements," he explained.
He further explained that the five banks also failed to submit their strategic plans on how they could raise their capital, in conformity with its mandate, under Section 41 (a) of the Banking Financial Institutions Act, 2006.
BOT has appointed the Deposit Insurance Board (DIB) as liquidator of the aforesaid banks effective from 4 January 2018. The governor pointed out that continued operations under their current capital position was detrimental to the interests of depositors and posed a risk to the stability of the financial system.
The three banks to which the grace period was given are Kilimanjaro Cooperative Bank Limited, Tanzania Women's Bank (TWB) and Tandahimba Community Bank Limited. BoT said Tandahimba entered into a three-year agreement with CRDB and was already doing well and making some profit. On Kilimanjaro Cooperative Bank, he said the bank shareholders--Kilimanjaro Cooperative Union--agreed to increase core capital.
"NMB Bank has shown an interest in investing in TWB, targeting to turn it into a special lending window for women entrepreneurs," Prof Ndulu said. On the reason behind failure of small banks, he said most of them had a minor scope of business and never gained any profit due to high running costs, bloated boards of directors and running big systems.
Prof Ndulu said in such scenarios, as the banks had a few depositors, 95 per cent of them were usually covered by DIB, and BoT would like to assure the public that it would continue to protect the interests of depositors and maintain the stability of the banking sector. The central bank's Director of Banking Supervision, Mr Kened Nyoni, said the total deposits of the eight banks were 67.8bn/-, equalling 0.38 per cent of all deposits in banking sector.
The DIB Acting Director, Mr Richard Malisa, said their major role was to compensate, the laws requiring them to pay depositors as soon as possible after all procedures were streamlined. "The law on deposits internationally requires us to pay depositors within seven days but in this context all the affected customers will be given payments information after a month," he said.