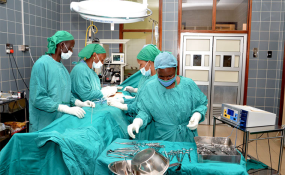 Photo: The Observer
Cape Town — Patients in African hospitals are twice as likely to die after surgery than the average patient across the globe, and the most common complications suffered after operations are infections.
These are the findings of a new study, published in the medical journal, The Lancet, which reports on a survey covering 11,422 patients in 247 hospitals in 25 low- and middle-income countries between February and May last year. The findings were published in The Lancet this week.
The study is believed by the researchers who carried it out to be the most comprehensive assessment of its kind in Africa. It found that African hospitals suffer a higher post-operative death rate than the global average despite patients being younger with a lower risk profile and experiencing lower occurrences of complications.
The study showed that most deaths occurred in the days following surgery and many were probably preventable: "Our findings showed that one in five surgical patients in Africa developed a peri-operative complication [one which occurs around the time of surgery], following which, one in ten patients died," the report in The Lancet says.
African surgical hospitals are under-resourced with far below the recommended number of specialist surgeons, obstetricians and anaesthesiologists, the report adds.
The number of surgical procedures carried out in Africa is well below the global average, and they tend to be be urgently needed rather than scheduled elective surgeries.
"Most surgical procedures were done on an urgent or emergency basis, the report says, "and a third were caesarean deliveries. Importantly, 95 percent of deaths occurred after surgery, indicating the need to improve the safety of peri-operative care."
Reporting on the implications of its findings, the study said: "Our findings suggest a high incidence of potentially avoidable deaths among low-risk patients after surgery, largely caused by a failure to identify and treat life-threatening complications in the peri-operative period.
"Limited availability of human and hospital resources might be a key factor in this problem. Despite the positive effect of the global safe surgery campaign, our findings showed that surgical outcomes will remain poor in Africa unless the peri-operative care of patients with deteriorating physiological function is addressed and sufficient resources are available to provide this care.
"A continent-wide quality improvement strategy to promote effective peri-operative care might save many lives after surgery in Africa."
The study was led by professors at universities in South Africa, the Democratic Republic of Congo, Zimbabwe, Namibia, Mali, Madagascar, Mauritius, The Gambia, Niger, Nigeria, Uganda, Libya, Algeria, Benin, Burundi, Cameroon, Kenya, Zambia, Ethiopia, Ghana, Tanzania, Togo, Egypt, Canada, Belgium and Britain.
Read the full report in The Lancet (after free site registration) >>