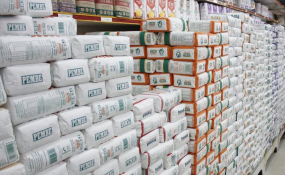 Photo: The Nation
Maize flour prices are set for a sharp increase after it emerged that millers have exhausted subsidised stocks and farmers are hoarding their produce hoping to cash in on the expected shortage.
The price of a 2-kilogramme packet was yesterday going for between Sh107 and Sh195, depending on the brand in most supermarkets in Nairobi and other major towns. Other supermarkets have ran out of stock.
FARMERS
The Daily Nation on Monday learnt that some farmers were stockpiling the produce in anticipation of increased prices.
A bag of maize is currently retailing at Sh3,000 up from Sh2,800, while that of wheat is selling at Sh3,400 up from Sh3,100 at farm gate level.
"This is because most farmers are holding on to the produce to cope with the impending shortage," said Jackson Kosgey from Moiben, Uasin Gishu .
"Food shortage is unavoidable due to declined production this season caused by erratic climatic conditions during the planting season," he added.
Maize production in Rift Valley, the country's food basket, shrank from 21 million bags to 16 million last season.
A two kilogramme packet under the Government's Sh8 billion subsidized plan is selling at Sh110 up from Sh90.
"We are having minimal stocks of the flour and it will be exhausted before the end of the week," said a worker in one of the supermarkets in Eldoret.
CARTELS
Cereal farmers under the Kenya Farmers Association (KFA) on Monday claimed some influential cartels, who enjoy government protection, were importing cheap produce and selling it to the National Cereals and Produce Board (NCPB) at exorbitant prices.
"Some of these cartels buy maize from Uganda at Sh1,800 per 90 Kg and sell it to NCPB at Sh3,200 while others hoard the crop in anticipation of increased prices," said Kipkorir Menjo, a KFA director.
He petitioned the government to subsidize the cost of farm inputs to help farmers increase acreage.
"What farmers require is sufficient capital to enable them to invest in modern crop production instead of pumping up funds on subsidized maize flour which is a short-term solution to the food crisis in the country," said Mr Menjo.
In many towns across the country, most retail shops had yesterday run out of the subsidized maize flour.
At Eastmatt supermarket on Tom Mboya Street in Nairobi, other brands of the staple food were in stock with the selling price at Sh107.
SHELVES
At Choppies supermarket, the subsidized packets were unavailable and those on offer
However, the brands on offer cost between Sh110 and Sh149.
At the Chandarana Foodplus store in Westlands, no flour was on the shelves, while at Naivas prices started from Sh110 with the subsidized version already out of stock.
In Nakuru town, Mr Ahmed Nassir, who owns Nassir Enterprises in Nakuru, said their ration of the subsidized maize flour got finished last week.
"I am left with hostess maize flour which is retailing at Sh185," he said.
At Tuskys supermarket, Ugali Afya retailed at Sh185 and Equatorial ugali at Sh225.
OUT OF STOCK
In Nyamira, most shops and supermarkets had run out of stock of maize flour yesterday and residents were instead buying dry maize for grinding.
In Bomet, packets were selling at Sh110 from the previous Sh90 while in Kisumu and Kisii, most supermarkets had the subsidized stock.
In Migori, Uriri, Awendo and Rongo most supermarkets had run out of the subsidised supplies.
"Millers have told us that the subsidy period has ended," said a trader Mr Vanish Patel.
Supermarkets in Meru such as Mathais, Tuskys, and Society Stores have replaced the subsidized Unga with few packets of yellow maize.
Reports by Barnabas Bii, Agewa Magut, Ruth Mbula, Elizabeth Ojina, Elisha Otieno, Sharon Okolla, Henry Nyarora, Geoffrey Rono, Linet Amuli, Alex Njeru, Charles Wanyoro and Isabel Githae.