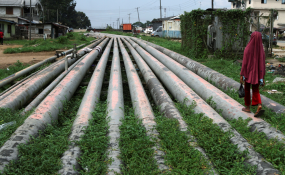 Photo: Premium Times
By Simon Echewofun Sunday and Daniel Adugbo
The federal government said it has repaired and restored the western gas pipeline that supplies about six power Generation Companies (GenCos) producing about 3,100 megawatts (MW), that was burnt six days ago.
The Minister of Power, Works and Housing, Mr Babatunde Fashola who disclosed this yesterday at the 23rd power sector meeting in Lafia, Nasarawa state said with the restoration, the affected power plants would ramp up generation in a few days.
Meanwhile Mr Usman Gur Mohammed, the Interim Managing Director of the Transmission Company of Nigeria (TCN) shortly after Fashola commissioned a 60MVA high voltage transformer in Keffi, said processes are on to get a $486 million loan from the World Bank as part of funding to expand transmission infrastructures nationwide.
The Daily Trust reports that the Escravos Lagos Pipeline System (ELPS) delivering gas to western based power stations was shutdown last Tuesday after a fire incidence at Okada in Edo state. The cut in gas supply to the six GenCos caused a power blackout after the national grid collapsed with power generation falling from over 4,000MW to 0.50MW.
The fragile system collapsed again on Wednesday with generation falling to the 52MW as the western states saw huge cut in their electricity load. But Fashola announced that the pipeline was restored on Sunday and that Olorunsogo GenCo in the axis was beginning to receive gas.
He said: "I am happy to inform Nigerians that as at last night (Sunday), the Nigerian National Petroleum Corporation (NNPC) informed us that repairs have been completed. We thank and commend them for their response. What remains is to test the lines and restore pressure and supply to the GenCos."
At the Keffi transmission station, Fashola said the new installation will improve electricity supply around the town and across other communities in the state which is part of federal government's steps towards incremental power.
However, the TCN, Mr Mohammed in his address said the project was supported by the World Bank under Nigeria Electricity and Gas Improvement Project (NEGIP).
He said the $486m loan was to support government's Transmission Rehabilitation and Expansion Project (TREP). "Through this process several transformers and substations will be completed in the first quarter of 2018," Mohammed said.
TCN said with the strengthening of existing transformers and power lines including the Lagos axis under it's TREP programme, about 3,000MW additional capacity would be added to its current 7,000MW wheeling capacity shortly.