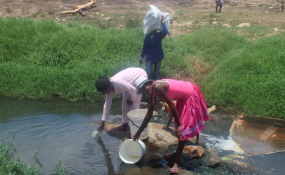 Photo: New Era
By Nomhle Kangootui
SOME residents of Windhoek's Havana informal settlement, where most cases of hepatitis E have been reported, yesterday accused their constituency councillor of neglect.
Health minister Bernard Haufiku declared a hepatitis E outbreak in Windhoek in December after one person died and nine others tested positive for the virus.
Hepatitis E is a liver disease caused by the hepatitis E virus (HEV). The virus is shed in the stools of infected persons, and enters the human body through the intestines. It is transmitted mainly through contaminated drinking water.
The health ministry's acting permanent secretary, Dr David Uirab, yesterday said the number of infected people stood at 214.
The affected Havana residents, who all stay on Walvis Bay and Karibib streets in the Moses Garoëb constituency, told The Namibian during a visit that their constituency councillor, Martin David, was neglecting them.
The two streets are overcrowded, with uncollected rubbish lying everywhere, sewage flowing from makeshift toilets, and about 90% of municipal toilets broken.
Most of the residents staying along these streets have resorted to relieving themselves in the open. There are just a few functioning water points.
Sheya Abisai, who is a family man living along Walvis Bay Street, said he was not surprised that the number of people infected with HEV keeps rising.
"Look around us. Who are these guys fooling? Since December, no toilets have been fixed," he stated.
"We call the councillor, and he just ignores us, or says they will look into it. Until when?
"Now, the ministry is telling people that they are solving this. How, when all that we see are people interviewing us?" he asked rhetorically. "If they can fix one toilet a day, this story will end. I am telling you. We are also human beings."
A Hakahana resident, Abraham Owoseb, called on President Hage Geingob to intervene, saying the HEV outbreak was a crisis.
"How do you understand a grown man like me who has been staying in this area for 19 years now still using a rock as a toilet?
How can our government and municipality not feel bothered by that? That is where diseases like this come from. This will not be the end. Please do something before this hepatitis E kills our children," Owoseb stressed.
The Namibian could not reach David for comment yesterday, but a community leader in Hakahana's Maritungwe B area, Immanueal Ickwa, told The Namibian that they were aware of the issue, and have reported it to the municipality.
"Yes, we know the people's concerns. We always convey their messages and complaints to the municipality. All we can do is wait for them to build toilets and provide more water points," said Ickwa.
A member of a World Health Organisation team working in the affected areas confirmed to The Namibian that Havana's Walvis Bay and Karibib streets were where most of the cases have been reported.
The team member, who did not want to be named, said if a toilet was broken, the sewage flowed into the water pipes, which could also be broken.
Uirab urged residents to report burst pipes to the municipality.
"We are holding community meetings, and these are the platforms to bring up things like that. But the teams, as I said, are hard at work," he noted, adding that they were working closely with the Windhoek municipality.
Uirab furthermore encouraged people to wash their hands, drink clean water, save water and use toilets, as well as dispose of faeces properly.
Namibia experienced its first hepatitis E outbreak in 1983 at Rundu, when nine cases were confirmed, and the last outbreak was from 1995 to 1996, also at Rundu.