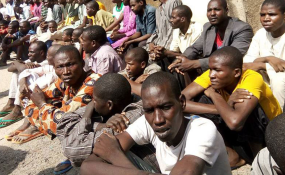 Photo: The Guardian
UN Secretary-General Antonio Guterres has congratulated the Government of Nigeria on conducting trials of Boko Haram suspects, and urged it to ensure due process and transparency by granting access to human rights observers.
Guterres, who stated this in the Report of the Secretary-General on the activities of the UN Office for West Africa and the Sahel, also welcomed the establishment by Nigeria of a judicial commission to uphold compliance by its armed forces with national laws and international human rights standards.
He commended the efforts of the countries participating in the Multinational Joint Task Force, saying they have reduced the operational capacities and geographical reach of Boko Haram.
According to him, however, persistent attacks are hampering resettlement and rehabilitation efforts and provide a breeding ground for extremism.
"I reiterate my call for stronger partnership among the affected countries, as well as with regional organisations, including the African Union, and underscore the need for all counter-insurgency efforts to be carried out in full compliance with international humanitarian, human rights and refugee law.
"I reiterate my call upon the international community to increase its political, humanitarian, early recovery, logistical and financial assistance to the affected countries and to the Task Force and the Lake Chad Basin Commission.
"I encourage countries of the Lake Chad basin to continue their efforts to reintegrate Boko Haram victims and other categories of individuals associated with Boko Haram, and urge the international community to assist them in that endeavour.
"I reiterate my call for a regional strategy for addressing the root causes of the crisis in the basin. In that regard, I welcome the holding of the first regional stabilisation conference in the basin region and hope that the conference will be the first step towards the development of such a strategy."
Guterres urged national authorities not to relent in their efforts to provide critical humanitarian assistance to vulnerable communities and to advocate the disbursement of outstanding funds pledged at the Oslo Humanitarian Conference for Nigeria and the Lake Chad Region, held in February 2017.