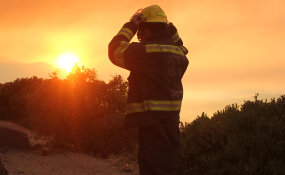 Photo: Ra'eesa Pather/Daily Vox
Firefighters are working to extinguish a vegetation fire along Justin Street, in Brooklyn, Cape Town.
It is unclear what sparked the fire which broke out just after 14:00 on Monday.
"The fire has not yet been contained. There are three fire engines, two water tankers and 35 firefighters on the scene in total," said the City's fire and rescue services' spokesperson, Theo Lane.
"It's difficult to say by what time the flames will be extinguished," he added.
There have been no reports of damage or human injury.
A similar fire broke out in upper Kloof Street in Cape Town on Saturday.
Source: News24