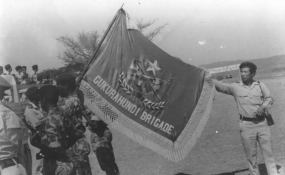 Photo: New Zimbabwe
Victims and activists have approached the Bulawayo High Court to compel former president Robert Mugabe and incumbent Emmerson Mnangagwa to release the findings of the commission of inquiry into the Gukurahundi atrocities.
The activists also want the British government to release all the classified reports on the 1980s killings.
Vice President Kembo Mohadi and British Prime Minister Theresa May were also cited as the third and fourth respondents, respectively.
Mohadi was recently appointed to head the National Peace and Reconciliation ministry.
Ibhetshu LikaZulu, represented by Secretary Mbuso Fuzwayo, Dumisani Mpofu and Charles Thomas, are represented by Mathonsi Law Chambers.
Following the political disturbances of 1981 involving ZIPRA and ZNLA forces and the large scale killings that followed in Matabeleland and Midlands, the then President Mugabe launched an inquiry in 1983 to investigate the killings.
The findings of the Commission of Inquiry which was chaired by Justice Simplius Chihambakwe were never released.
The Dumbutshena report contains the findings of a commission of inquiry into the disturbances at Entumbane and other demobilisation camps following clashes between Zipra and Zanla cadres in 1981 but was also never made public.
A joint inquiry by the Legal Resources Foundation and Catholic Commission for Justice and Peace revealed that thousands of innocent civilians were killed in Matabeleland and Midlands provinces by the government sponsored Fifth Brigade.
This is not the first time that the Zanu PF government has been pressured to release the two reports.
"In 1981, the Zimbabwe People's Revolutionary Army (ZIPRA) opposed Robert Mugabe and violence broke out in areas surrounding guerrilla camps throughout in particular Entumbane.
"Politically motivated violence in Entumbane during 1981 was followed by killings in Matabeleland, a western region in Zimbabwe inhabited by Ndebele, Xhosa, Venda, Kalanga, Suthu, Nambiya people amongst other minorities who were opposed to President Mugabe's rule
"Mugabe's government responded with a series of massive military campaigns in which thousands of civilians were raped, butchered, tortured and lost their property," the activists said in their founding affidavit.
Thomas, in his supporting affidavit, said he was "abducted, beaten with logs, tortured and has a cracked skull and other visible scars" during the atrocities.
The activists implored the government to make the reports public and also facilitate the setting up of a Truth Commission.
"I submit that there would be no prejudice suffered by the respondents if the documents which include the Dumbutshena and Chihambakwe reports which are under their custody, in particular Robert Mugabe in his personal capacity, Emmerson Mnangagwa and Kembo Mohadi in their official capacity and Theresa May in her capacity as the Head of State of Britain release all classified information relating to Matabeleland disturbances," reads the affidavit.
"Further, Mnangagwa and Mohadi should set up a Truth and Reconciliation Commission to provide redress to the victims and survivors of these disturbances."
The respondents have ten days to file a notice of opposition.
Mugabe and Mnangagwa have been named by Genocide Watch as the main culprits. Mugabe was the prime minister while Mnangagwa was the security minister in charge of the central intelligence unit.
While Mugabe has said the episode which left an estimated 20 000 civilians dead was a "moment of madness", Mnangagwa has denied any involvement.
Speaking on the BBC Panorama programme in 2002, former British High Commissioner to Zimbabwe (1983-85) Sir Martin Ewans said the issue of Gukurahundi was a "side issue".
He said, "We had very much an eye to what was happening in South Africa at the time with apartheid and we were hopeful that Zimbabwe would be something of a contrast, and South Africans would look at Zimbabwe and say ah yes, it is possible to work as a multiracial society. So I think Matabeleland is a side issue. The real issues were much bigger and more positive and more important."