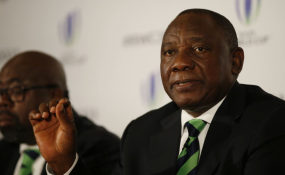 Photo: Voice Of America
analysis
ANC President Cyril Ramaphosa has repeated his commitment to expropriating land without compensation, but this weekend could reveal his sincerity on the policy and how the ANC will handle the contentious issue ahead of the 2019 elections. By GREG NICOLSON.
The ANC's top six officials and national executive committee (NEC), elected in December at the party's national conference, will meet on Wednesday as speculation continues over whether President Jacob Zuma will be recalled to improve the party's chances at the 2019 general elections. The fate of Zuma and his allies is the most immediate concern for the newly-elected leadership.
Most voters, however, will look to the new ANC leader Cyril Ramaphosa this weekend as he delivers the party's annual birthday message in East London for an indication of where the party is headed after Zuma's exit and whether it can deliver on its conference resolutions.
The most controversial policy adopted at the December conference is related to land reform. Factions were split, and the debate even got physical before outgoing economic transformation sub-committee chairperson Enoch Gondongwana announced the ANC had resolved to start the process towards a constitutional amendment of Section 25, the Constitution's property clause, to allow for land...