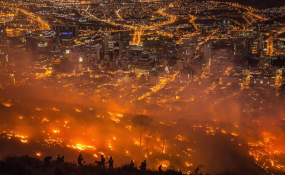 Photo: VWS Wildfires
High temperatures predicted for Cape Town on Wednesday has led the South African Weather Service to issue a weather alert, advising that the conditions favour the spread of veld fires, the City of Cape Town said.
"Given that we are prone to vegetation fires this time of year and caught in the midst of a drought crisis, we urge the public to please be extremely cautious around open flames and other potentially flammable material," mayoral committee member for safety, security and social services JP Smith said.
The predicted temperatures were also likely to cause Capetonians to make their way to the beach. Smith urged bathers to be careful in the water, and only swim in designated areas and obey the instructions of lifeguards and law enforcement officers.
By Monday, 14 people had drowned along the city's coast since December 1, after a 63-year-old man was declared dead at Kalk Bay Harbour on Sunday.
The man had jumped into the water from the jetty and started to experience difficulty. A worker pulled him out of the water and, although paramedics attempted to revive him, he died at the scene.
Smith further warned that exposure to high temperatures could result in hyperthermia.
"The public is advised to stay in cool, shaded areas as far as possible, avoid strenuous outdoor activity and to stay hydrated, particularly the elderly, infirm and young children."
Source: News24