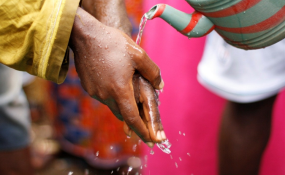 Photo: Nancy Palus/IRIN
By Aron Mushaukwa
Katima Mulilo — The cholera outbreak in Zambia and the food import ban implemented by Namibia with effect from Monday this week means Namibian fish traders will not be allowed to import boxes of frozen fish from the north-eastern neighbouring country.
Fresh fish traders in the Zambezi Region - whose livelihoods depend on importing fish from a farmer who has several commercial fish ponds in Zambia - have been left in despair after the government's decision to ban the import of perishable and unprocessed food from that country.
The ban came effective on Monday, due to the cholera outbreak that has besieged Zambia for the past three months.
Fishmongers who spoke to New Era were despondent after learning they were no longer allowed to import fresh produce from that country.
The Ministry of Fisheries and Marine Resources is enforcing a moratorium that prohibits fishing in the Zambezi, Linyanti and other perennial rivers in that region to enable fish stocks to recover from overfishing that has decimated fish populations in water bodies such as Lake Liambezi.
Fish traders told New Era they had already ordered fish from the farmer in Zambia, and that they had also already paid the farmer on Friday, only to be told yesterday that they can no longer bring the fish inside the county because there is a ban on all food imports from Zambia because of the deadly outbreak.
They were also worried that the farmer was not going to refund them their money because the fish had already been packed in containers and was ready for transport to Namibia.
"I am very disturbed right now. I feel like dying and being taken to the cemetery. Because that money I paid to the white man is the same money I was supposed to use to pay for my child at school," said one of the fishmongers, Erica Lyamupu.
"Health inspectors in Zambia always inspect them (fish) before we buy, even our health officials here always inspect them, they are healthy. They are not like tomatoes and vegetables, which are in an open place. We transport them in sealed containers, not just openly or in sacks, which means they are protected," lamented another frustrated fishmonger, Vivian Munguli.
The health officer at the Wenela border post, Lempie Onesmus, pleaded with the fishmongers to accept the situation, saying these efforts by the government are for their own wellbeing. She promised to give them letters to take to the farmer explaining that food can no longer enter Namibia.