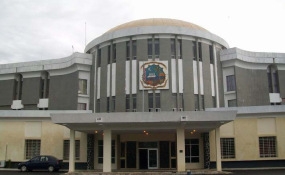 Photo: Liberian Legislature
By Toweh Alphonso
The first political marriage entered into by the ruling Unity Party (UP) and the incoming governing government of the Coalition for Democratic Change (CDC) has given considerable grounds for Representatives Bhofal Chambers (CDC and Pleebo in Maryland) and Prince Moye (UP and Bong County) to become Speaker and Deputy Speaker.
Besides, the marriage between the two parties has made unattainable the chances of current Deputy Speaker Hans Barchue ascending to the position.
With about 24 lawmakers on his side, the number seems infinitesimal to undo or match the weight of Chambers is being backed by his CDC party and Unity Party, as far as the marriage is concerned.
This could mean a big blow to Deputy Speaker Barchue who in 2016 did not get the support of his colleagues to succeed then Speaker Alex Tyler who resigned amid his indictment by the state on corruption allegations.
Announcing the CDC, UP marriage, spokesperson of both blocs, Representative Acarous Gray of Montserrado County district #8 said the two parties have decided to collaborate in order to provide "a genuine leadership of the 54th legislature."
"This is a joint resolution between the ruling Unity Party (UP) and the Coalition for Democratic Change (CDC) lawmakers who have decided to collaborate to lead the 54th legislature," Representative Gray noted.
According to the resolution the two parties alongside its collaborating parties have decided to form a joint bloc to produce the next leadership of the 54th legislature, with Rep. Bhofal Chambers of Maryland County district #2 from the CDC as Speaker and Rep. Prince Moye of Bong County district #2 from the UP as Deputy Speaker.
"Whereas, we the undersigned members of both parties hereby form a block to collaborate and that this collaboration will produce the leadership of the legislature and the membership of all committee will be decided by the two parties," Representative Gray read the resolution.
The CDC lawmaker indicated the resolution would serve as a commitment of both parties and its collaborating partners during and after the elections process.
The resolution which was signed by over forty (40) lawmakers from the both parties and collaborating parties, is for now believe to be the biggest block in the ensuing Speaker and Deputy Speaker elections on Capitol Hill.
The election which is expected to take place next Tuesday, January 16, 2018 is as a result of the expiration in the tenure of the current speaker and Deputy Speaker, Representatives Emmanuel Nuquay and Hans Barchue of Margibi and Grand Bassa Counties respectively in accordance with the House's own standing rules and the constitution of Liberia.
Meanwhile, the two parties and its collaborating parties are believed to have the largest number of lawmakers in the House of Representatives.