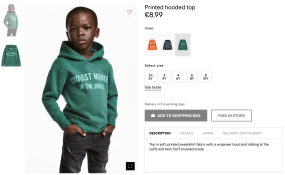 Photo: Premium Times
By Sylvania Ambani
A black boy at the centre of a racism storm involving Swedish multinational clothing retail company, H&M, has Kenyan roots.
The photo, which has gone viral, shows the black boy modelling for American fashion powerhouse, wearing a green hoodie with the message "Coolest Monkey in the Jungle".
A Kenyan woman by the name Terry Mango has claimed to be the child's mother.
She has shocked internet users when, in a series of posts, backed H&M, saying there was nothing wrong with the message.
On social media, the woman identifies herself as a Kenyan who works in Sweden.
"I am the mum and this is one of the hundreds of outfits my son has modelled. Stop crying wolf all the time ... Get over it. If I bought the jumper and put it on him and posted it on my pages would that make me racist? I get people's opinions but they are not mine," wrote Ms Mango.
APOLOGY
The Nation could not independently verify her claims. We got in touch with her via Facebook but she had not responded by Wednesday evening. H&M has already issued an apology saying it had taken down the image and the hoodie has also been removed from its product offering.
"We would like to put on record our position in relation to the controversial image of our hoodie. Our position is simple, we have got this wrong and we are deeply sorry," read part of the statement.
The use of the black boy caused an uproar globally, with social media users accusing the clothing brand of racism for using a black child to convey the message written on the hoodie.
Musician, The Weekend, even took to his Twitter saying he had cancelled any kind of partnership with H&M.
EMBARRASSED
"Woke up this morning shocked and embarrassed by this photo. I'm deeply offended and will not be working with @hm anymore..." tweeted the musician.
And according to media reports, American rapper P Diddy has offered the boy a modelling contract worth Sh103 million ($1 million) to work with his clothing line Sean John.
Manchester United player Romelu Lukaku also posted an altered version of the advertisement with "black is beautiful" inscribed on the hoodie. Lukaku caption the image: "You're prince, soon to be a king. Don't let anybody tell you different #blackexcellence."
NBA player Lebron James followed suit with a similar image, captioning it: "[H&M] u got us all wrong! And we ain't going for it! Straight up! Enough about y'all and more of what I see when I look at this photo."