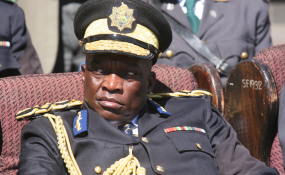 Photo: New Zimbabwe
A Harare businessman on Wednesday sued outgoing ZRP Commissioner General Augustine Chihuri for $3m, accusing the police chief of torture and harassment.
Through his lawyers, Bigboy Pachirera claimed that Chihuri also robbed him several vehicles and a house.
Lawyer Rungano Mahuni said the seized property has since been registered under Chihuri's name and a company called Kidsdale Enterprises said to be owned by the police chief.
The vehicles Chihuri allegedly seized include a Jeep Cherokee, Mercedes Benz ML 350 and a number of trucks while the house based in Old Highfield was said to be worth $50,000.
Last December President Emmerson Mnangagwa announced that the unpopular Chihuri would be going on leave pending retirement.
Mnangagwa immediately appointed Deputy Commissioner-General Godwin Matanga as acting ZRP Commissioner-General.