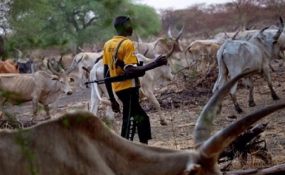 Photo: Daily Trust
A chieftain of the All Progressives Congress (APC), Prince Tony Momoh yesterday called for caution in treating the killings in parts of the country as being caused by Fulani herdsmen.
Momoh, a former Minister of Information, gave the assessment in a telephone interview with the News Agency of Nigeria (NAN).
He said criminal, including Boko Haram, might be hiding under Fulani herdsmen to unleash terror in some communities in the country.
"We should be careful in the way we see the killings in some parts of the country so that we can have a better understanding of dealing with the problem.
"Some criminals, such as cattle rustlers and even Boko Haram insurgents can also hide as Fulani herdsmen to unleash terror on Nigerians.
"The herdsmen we used to know were not carrying AK47, how we have come to this problem of killings calls for proper understanding.
"It is not a political matter but a matter that needs understanding and attention because it involves lives," he said.
He said President Muhammadu Buhari has done well in the delivery of his electoral promises.
"For example, let us look at the area of security before Buhari came in, the Boko Haram insurgents were operating almost uninhibited, to the extent of seizing territories.
"But for Buhari's intervention, Only God knows what would have happened to the country because of Boko Haram," he said.